success stories
Body by Pam has assisted many people on their health and fitness journey and this page is dedicated to them!
Body by Pam has been a blessing in disguise. I first met Pam while my kids were going to Jensen Ranch. She was involved with a lot of different things and always made you feel welcome with her warm hello and positive attitude. She was an Officer of the PTA and at the meetings I was always impressed. Pam did her homework and knew the issues concerning the parents and staff. She is one smart lady!
As I live in the same neighborhood as Pam I am in awe, as rain or shine she is out there running. She practices what she preaches. I had signed up for a trainer at a local gym but I felt like just a number. I was given a cookie cutter training plan and no real encouragement. My sister had been going to a trainer and getting great results. I though I should give it a try again. When I saw in the local paper that Pam had opened a training studio I started thinking this could be it. In February 2007 I signed up for 3 sessions just to try it out. I met with a wonderful trainer, Tina, and we just connected. She actually listened to what I wanted to accomplish and we set small achievable goals.
As fate would have it, I would need this outlet more than I knew. The same day I signed up with Body by Pam my brother in-law had a stroke and turned my family's world upside down. Training became my outlet. I always felt so much better after a good sweat. It was the one thing I was doing for myself to keep my sanity. Now I am addicted. My first goal was just to get my strength back as I felt I had none. Then, I wanted to improve my overall cardio. Then, I wanted to lose 20 lbs. With the help of my trainers, Tina and, now, Ivania, and Weight Watchers this has all been achieved.
When you walk into Body by Pam you have the support of everyone. The other clients are so supportive and fun to be around. I love the events that Pam puts on. As a group we do the Run to the Lake and it is great to have all those people cheering you on. It is always fun to do runs as a group and I feel part of the Body by Pam team- I wear my shirt with pride! Life has its ups and downs and Body by Pam has helped me get through these challenges with my sanity intact.
-Yvonne F.
In November 2011 I had my last baby. As I prepared to go back to work late December, nothing in my closet fit. I had, over the past 10 years, steadily gained about 30 pounds. As much as I wanted to blame it on my pregnancies, I knew the main reason was because I had poor eating habits and virtually no exercise program. I have been in this place before; dissatisfied with my appearance and wanting to make a change. I've joined Weight Watchers a few times and tried Nutrisystem, too, and renewed my gym membership with the best of intentions. Yet every time, my enthusiasm wanes quickly, and sooner or later I am back to the couch with my comfort foods.
This time I needed real help. I really wanted to lose weight and get healthy, but based on my past experience, knew I wasn't going to do it alone. With a new baby, 2 year-old twins, and my business to run, my options seemed limited. I work in Hayward and frequently drive up and down Redwood Road. "Body By Pam" came into my mind as an something to investigate. So close to my office, there was not much excuse why I couldn't make it there at least a couple times a week. On the eve of the New Year I sent an email to "Body By Pam." She got right back to me and we made a consultation appointment for a few days later.
When we met, I liked Pam right away. She and I talked a bit about how I got to where I was and I felt like she understood me, wasn't judging me , but also was real about explaining what it was going to take to get me where I wanted to go, both with food and exercise. I felt that she was going to be honest with me during this process, and wasn't someone who would try and sell me on gimmicky stuff. This trust was and is very important to me, as I've seen how the weight loss industry preys on the desperation and insecurity overweight people feel to sell expensive quick fixes that don't really work. Pam has never once tried to sell me food, vitamins, shakes or equipment.
We started with a fitness assessment and picking a food management plan. We then got down to business. I work with Pam twice a week and, at her direction, also do two other cardio workouts on my own during the week. I again joined Weight Watchers. Each workout Pam asks me how I am doing with my food. Sometimes I have to tell her I ate Coldstone Cupcakes or made cookies with my boys. The food thing is harder for me than the exercise, because so many times during the day I have to make a choice about what to put in my body. I love sugar and I eat in response to stress. Some days are bad. Pam isn't there to make me feel guilty about it, but she does keep me accountable for it, and makes sure I continue to track the food I eat. This makes it really hard to lie to myself and her. I also realize that lying about it doesn't matter—the scale is all-knowing.
I've been working with Pam for 2.5 months, twice a week. The weight is coming off. I can see muscle definition in my arms and legs. I've lost inches all over and my clothes are loose. I ran my first race last weekend and I never thought I'd enjoy running. I am not done losing the weight yet, but already my clients and colleagues have noticed the dramatic change, and tell me all the time I look great, not at all like I just had baby four months ago.
I have committed to continue training with Pam for at least several more months, because I think it's the best way for me to continue the momentum and get to my goal. Having been so careful about my food for this long, I am now starting to feel less enthusiastic about saying no to comfort food. If I stop being careful, these results won't last. Pam is checking on me at every session to keep me accountable and motivated. Also, I don't think I'll be inclined to work out as hard on my own. While there's hardly a day now that some body part isn't feeling the effects of a workout, every day I see how these workouts are effecting changes. I look slimmer and more toned and I feel great. I don't want to mess with a winning formula, and I really want to see this through to my goal, which day by day, is getting closer!
-Sarah L.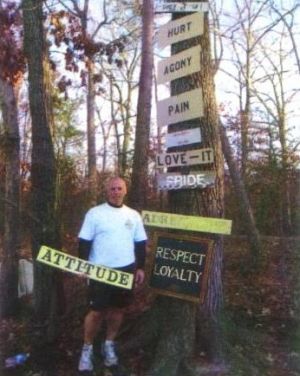 I wanted to send a note to say thank you, but thank you doesn't seem to say enough! About 2 years ago, feeling tired all the time, having no energy to do the things I wanted to do, and being overweight and in poor physical health, I knew I needed help, but didn't know where to start. To lose the weight I needed to lose on my own seemed impossible. I had tried all the diets before, only to regain the weight (and more), which made each new attempt more intimidating.
I had recently gone to the doctor for a physical and was scheduled to see a nutritionist to help me with improving my eating habits. As luck would have it, at the same time, my wife noticed the banner you had placed on the front of your building and suggested that we take a look. I am so glad we did! I met with Pam and decided to give it a try. I figured I had nothing to lose (except a pound or two), right? So I scheduled 3 visits.
I was matched up with Ivana Edens, one of the Personal Trainers on staff. On my first visit I was weighed and measured. Not surprisingly, I now weighed more than I ever had and embarrassingly had to learn my measurements matched my weight! To add" insult to injury", Ivana put me on a treadmill to see where I was physically so she could better prepare a plan for my overall program. In a very short period of time, as she increased the speed and incline, I quickly realized I could no longer deny what poor physical shape I was in. Then, as expected, Ivana asked what my goals were…and as I am sure she expected, I replied, "To lose weight and be in better physical health. " Little did I know those words would set the tone for what was, and my always be, the beginning of one of the best (and toughest) challenges of my life! By my 3rd visit, Ivana had devised a plan to meet my goals. Now it was up to me… and by that 3rd visit I knew I needed more, so I signed up and began my program.
From my first visit to my last, I was challenged every step of the way! Not only by a trainer I believe to be one of the best in the business, but by the whole Body by Pam "family" who were always there to encourage me while I ran on the treadmill; or pushed through what was always "one more" of something! It was with that encouragement, I had enough confidence to join you, your staff and other clients in the 2007 "Run To The Lake", which was my first 5K run. My goal was only to complete the race… even if I did it walking. But, with my wife at my side, and all of you either on the course or sideline cheering me on, complete it I did — RUNNING! All 3.2 miles! And the challenges didn't stop there!
Shortly after beginning my training with Ivana, there was an announcement sent out at work for an opportunity for me to apply to attend the FBI National Academy in Quantico Va. This had been a professional goal of mine since being promoted to the rank of Lieutenant. In my profession, this is a highly coveted opportunity and I knew it would be extremely physical in nature. I discussed with Ivana my desire to be ready to take on this challenge. Over the course of the next year, with her guidance and unwavering belief in my ability to meet the challenge; along with a renewed plan for training that she created after much of her own research into what the requirements to attend would be, I worked hard and completed several more 5K runs! Not to mention lost more than a few pounds!
It was late 2007, after taking (and passing) a physical agility test, that I was notified I had been selected to attend the September 2008 FBI National Academy. I was thrilled to be going, but more importantly, more determined than ever to continue down the path to better health!
Attending the National Academy requires you to live away from home for 3-months in dormitory style housing with 250 other men and women with similar professional and physical goals. Over the course of those 3-months, I not only participated in the required weekly physical training sessions that included more than its fair share of running, I completed three more 5K charity event runs and took on the Academy's swim challenge. But it didn't stop there…the final physical challenge of each Academy Session is what is known as " The Yellow Brick Road " run. This run is well known throughout the profession and is a highlight of the National Academy. It takes you through a Marine Corps obstacle course and then concludes with a 3-mile run up and down hills and through often rugged terrain, back to the academy.
In the end, I totaled over 150 miles running; 50 miles swimming and completed hours of core training. Not to mention, the countless miles walking to visit all of the sites in and around Washington DC.
Without the expertise and dedication from Ivana, as well as the encouragement and support of everyone at Body by Pam, I would not be where I am today — in the best physical and mental shape I have been in for many years, with a renewed sense of well-being and determination to continue the challenge set in motion when I first walked through your doors!
So as I began, Thank You does not seem to be enough, so I offer my debt of gratitude.
Bill G
Body By Pam is my sanctuary! Can you imagine looking forward to going to work out? I do every time I go to Body By Pam. As soon as I walk through the front door I can forget about my day and focus on my health goals. I have been with Pam for 6 years now and she has become an integral part of my weekly routine. She has helped me rehab through multiple surgeries, always working with my doctors and physical therapists to follow their recommendations.
I love that my workouts are tailored to me and Pam does all the planning, I simply have to show up and follow her instructions. She is wonderful at being able to adapt your workout each time you meet to deal with any issues of the day. Not to mention that somehow she actually makes all the work fun! The studio is designed so that your time for working out guarantees that equipment available to you –there is no waiting around like at the big gyms. Pam holds all her trainers to very high standards. I have worked out with several of them over the years and have always had a great experience.
I simply cannot recommend Body By Pam highly enough. I can see a significant improvement in my overall health and strength thanks to Pam.
-Judy N.